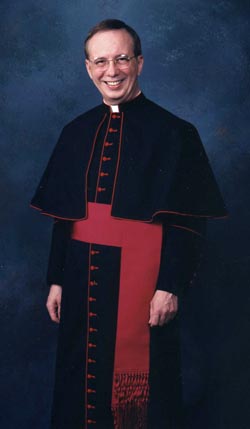 I am blessed to be the pastor of Our Lady of Sorrows Parish and Our Lady of Sorrows School. The School principal, Mr. Israel "Buddy" Martinez, and all the staff are very competent educators.
Our Lady of Sorrows School exists for the sole purpose of promoting the Gospel of Jesus Christ. All of us want to work closely with the parents of children to assure that they receive the best possible Catholic education. I commend the parents who are living up to the promises that were made at the baptism of the children, when you promised to raise them in the practice of the Catholic Faith. Some of you are making great financial sacrifices to send your children to this school - thank you for your dedication.
Our main focus of the week is the celebration of Holy Mass every Friday at 8:00 a.m. throughout the school year. All parents and friends of Our Lady of Sorrows are invited to come and celebrate with the children. However, our school Holy Mass does not fulfill the Sunday obligation. It is the responsibility of the parents to bring their children to church on the weekend (since most of them do not drive). I see a great discrepancy when children attend a Catholic School and are not brought to Sunday Holy Mass! Please make every effort to complement the Catholic education your children are receiving at Our Lady of Sorrows School.
Although some school families are not registered as members of the Parish, know that you can call on me. I am at your service.
Sincerely,
Monsignor Gustavo Barrera
Pastor