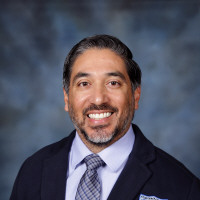 My name is Israel "Buddy" Martinez, Jr. and I am the principal of Our Lady of Sorrows School. I am humbled and honored to have not only been selected to lead our students, staff, and community but above all to have answered a call to a vocation to serve our Lord through a profession that is near and dear to my heart. My passion for leading adults and children is what drives me daily; most significantly, my vocation and dedication to being a servant leader, and a teacher and mentor to our youth through spiritual awareness, guidance, education, and discipline.
Our Lady of Sorrows School is known for its dedication to excellence, producing outstanding scholars and model citizens, but most importantly, laying a foundation centered on the love for Jesus Christ. My primary role as the principal of Our Lady of Sorrows School is to ensure that I am embedding our Catholic faith through our instruction and interactions with students, families, and staff.
Over the past years, I have worked as a coach, teacher, senior-level leader and administrator in both the traditional and charter school systems but I consider my most important job to be an advocate for children. To quote an old African proverb: "It takes a village to raise a child." This translates to mean: "It takes an entire community." Together, with our church and school community, I am confident that our children will have the faith, skills, and tools to be model citizens and scholars.
Blessings,



Dr. Israel "Buddy" Martinez, Jr.
Principal
Our Lady of Sorrows School