October Parable, Saint & Virtue
October 02, 2017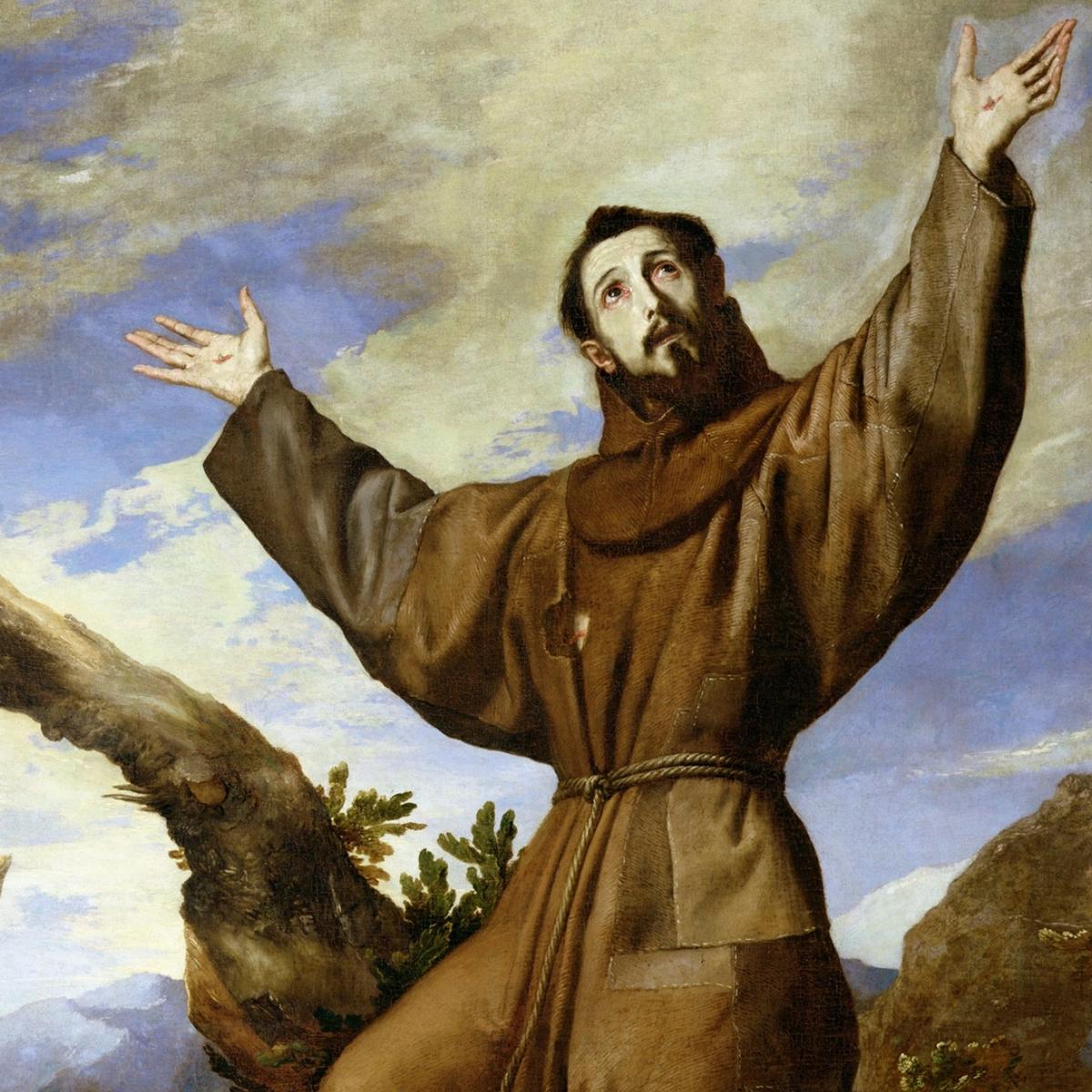 October Saint: Saint Francis of Assisi
Virtue: Goodness
Parable: The Good Samaritan (Luke 10:25 - 37)
Each month at Our Lady of Sorrows we explore a particular parable of Jesus, a saint from the great cloud of witnesses that surround us, and a virtue (generally taken from the fruits of the Spirit [Galatians 5:22-23, 2 Corinthians 6:6, Ephesians 5:9, & 2 Peter 1:5-7] or the cardinal & theological virtues). The parable, saint and virtue are incorporated into our morning prayer, religion bulletin boards and religion classes. This focus on one parable, one saint and one virtue complements our Words of Wisdom program and serves as a supplement to our religion curriculum. This month we focus on the parable of the Good Samaritan (Luke 10:25 - 37), the virtue of Goodness, and St. Francis of Assisi.
St. Francis is the patron saint of animals and the environment, but there is much more to Brother Francis then an ecological concern for our planet. One of his largest contributions to Catholicism was his desire to live his life as close to Jesus' as possible.
He fell in love with Lady Poverty early on in life, so much so that even when he was living surrounded by his family's wealth he had times in his life when he would go off alone to pray, or take everything he had on him and give it to someone who needed it more. He tried to radically live Jesus' prohibition against putting our trust in stuff and trusting to God (through the kindness of strangers and benefactors) to provide anything and everything he needed.
He was so patient with and good to others that people marveled at him, and his humility, gentleness and goodness shone through to everyone he met, from beggar to world leader. He made his peace with life and death, so much so that he could talk about Sister Death gently and lovingly coming to lead him (and everyone else) into God's presence.
This month's virtue of Goodness mirrors the way St. Francis lived his life. Practicing the virtue of goodness means remembering that God created us in goodness (like all of creation) and challenges us to live a life of virtue (heroic sacrifice for others), patience (St. Francis can still teach us a thing or two about this!), peace and kindness. Finally, just like St. Francis, the virtue of Goodness challenges us to choose the good, even if it means that we might suffer or lose our lives for choosing the good. It is a virtue that leads some to martyrdom – making the ultimate sacrifice of their lives for the good of another person or for the integrity of the Faith.
The parable for this month tells the story of one such person who chose to do good. The parable of the Good Samaritan (Luke 10:25-37) tells us this story:
Just then a lawyer stood up to test Jesus. "Teacher," he said, "what must I do to inherit eternal life?" He said to him, "What is written in the law? What do you read there?" He answered, "You shall love the Lord your God with all your heart, and with all your soul, and with all your strength, and with all your mind; and your neighbor as yourself." And he said to him, "You have given the right answer; do this, and you will live."
But wanting to justify himself, he asked Jesus, "And who is my neighbor?" Jesus replied, "A man was going down from Jerusalem to Jericho, and fell into the hands of robbers, who stripped him, beat him, and went away, leaving him half dead. Now by chance a priest was going down that road; and when he saw him, he passed by on the other side. So likewise a Levite, when he came to the place and saw him, passed by on the other side. But a Samaritan while traveling came near him; and when he saw him, he was moved with pity. He went to him and bandaged his wounds, having poured oil and wine on them. Then he put him on his own animal, brought him to an inn, and took care of him. The next day he took out two denari, gave them to the innkeeper, and said, 'Take care of him; and when I come back, I will repay you whatever more you spend.' Which of these three, do you think, was a neighbor to the man who fell into the hands of the robbers?" He said, "The one who showed him mercy." Jesus said to him, "Go and do likewise."
Samaritans were people from Samaria, North of Jerusalem and Judea. Many years before the time of Jesus Jewish people had moved there and married the pagans (worshipped other gods) who lived there. Many of them practiced a mixture of both Jewish and pagan religion, and they were looked down upon by other Jews. So for Jesus to tell a story where a Samaritan is the one who is good was a shock to his audience. But Jesus was trying to make the point that anyone who practices loving kindness – who chooses to do good – is the one who is showing love of God and neighbor.
May we pray this month for the grace to show goodness, love and mercy to all people in our lives, especially those who are different from us in creed, nationality, socioeconomic status, or political party.
Blessings & Peace,
Hugo De La Rosa III