Posts Tagged "parable"
April 28, 2018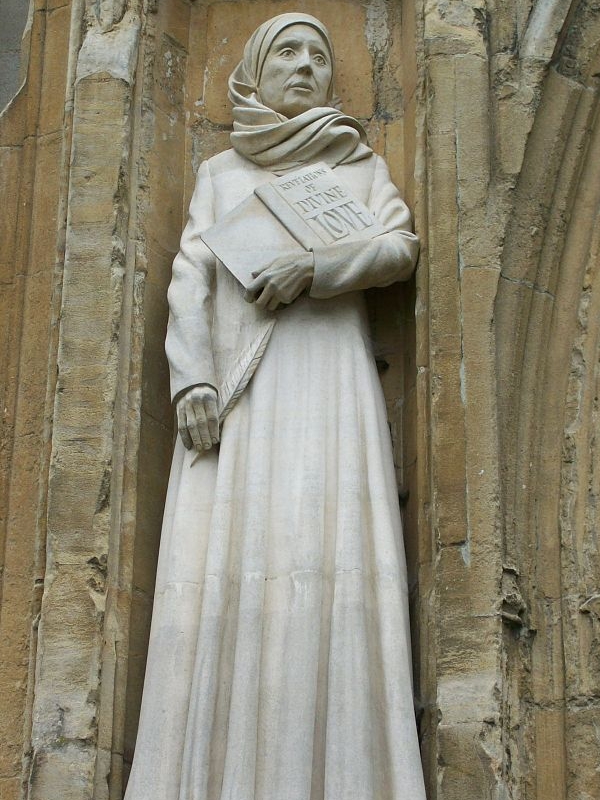 May Saint: Bl. Juliana of Norwich
Virtue: Generosity
Parable: The Workers in the Vineyard (Matthew 20:1-16)
Each month at Our Lady of Sorrows we explore a particular parable of Jesus, a saint from the great cloud of witnesses that surround us (see Hebrews 12:1), and a virtue (generally taken from the fruits of the Spirit [Galatians 5:22-23, 2 Corinthians 6:6, Ephesians 5:9, & 2 Peter 1:5-7] or the cardinal & theological virtues). The parable, saint and virtue are incorporated into our morning prayer, religion bulletin boards and religion classes. This focus on one parable, one saint and one virtue complements our Words of Wisdom program and serves as a supplement to our religion curriculum. This month we focus on the parable of the Workers in the Vineyard (Matthew 20:1-16), the virtue of Generosity, and Bl. Juliana of Norwich.
God's kingdom is like an estate manager who went out early in the morning to hire workers for his vineyard. They agreed on a wage of a dollar a day, and went to work. Later, about nine o'clock, the manager saw some other men hanging around the town square unemployed. He told them to go to work in his vineyard and he would pay them a fair wage. They went. He did the same thing at noon, and again at three o'clock. At five o'clock he went back and found still others standing around. He said, "Why are you standing around all day doing nothing?" They said, "Because no one hired us." He told them to go to work in his vineyard.
When the day's work was over, the owner of the vineyard instructed his foreman, "Call the workers in and pay them their wages. Start with the last hired and go on to the first." Those hired at five o'clock came up and were each given a dollar. When those who were hired first saw that, they assumed they would get far more. But they got the same, each of them one dollar. Taking the dollar, they groused angrily to the manager, "These last workers put in only one easy hour, and you just made them equal to us, who slaved all day under a scorching sun."
"He replied to the one speaking for the rest, "Friend, I haven't been unfair. We agreed on the wage of a dollar, didn't we? So take it and go. I decided to give to the one who came last the same as you. Can't I do what I want with my own money? Are you going to get stingy because I am generous?"
Here it is again, the Great Reversal: many of the first ending up last, and the last first. (Matthew 20:1-16, The Message Translation)
On a human level, it's interesting that this particular employer makes several trips into town, and on each pass he hires people to go and work. It seems a bit wasteful of him to hire a few people, then come back several times to hire again and again. It makes him seem like he either doesn't really know what he's doing (why not just hire everyone you need at one go?) or he's just a bit scatter-brained – either way, not exactly a poster child for the kingdom of heaven!
On a more theological level, if we take the landowner as a symbol for God, then we have God asking us: "Why do you stand here idle all day?" It reminds us of the second Genesis creation story where Adam and Eve are hiding under a bush in the garden and God asks, "Where are you?" In both cases, God already knows the answer . . . it's telling that God asks the question not for God's own benefit, but for our benefit – the listeners of the tale.
Once read this way, the story immediately brings us into it's telling: what is God asking of us? Why are we standing around while we could be serving others? Is the work / ministry we're doing incarnating the kingdom of heaven? Have we fallen into a rut, doing things not for the greater glory of God but simply out of habit?
As the parable continues, we find the phrase: The kingdom of heaven is like a landowner who went out at dawn to hire laborers for his vineyard. The kingdom of heaven isn't just the landowner, it's everything in the parable – in some way, the kingdom of heaven is like the landowner, but it's also like the vineyard, and it's also like the hired hands.
If we look at the kingdom of heaven as the vineyard, then the coming reign of God is expansive, luscious, verdant, alive . . . a delight for our bodily senses and needs. It is a place where we can slake our thirst and feed our hungers, a place where we can work and play, sleep and dream . . . it conjures up images of families gathered around the fruits of their labors at the close of day, ready to rest, but also ready to greet the dawning of the new day.
Seen as the workers, the kingdom of heaven is something that must be actively sought – it won't come to you. You have to go to where the kingdom is to be found . . . maybe even go to places or people that are different; not respectable; out of our comfort zone. It may mean seeing the kingdom of heaven in the unwed mother, in the unjust government, in the immigrant, in the prisoner, in the suicide bomber, in the vicious lawyer, in the stubborn pastor, in the person of the opposite political party, or in the person of another culture, creed or caste. It's a reminder that the kingdom of God is in more places and in more people than our fractured human heart can ever imagine.
Finally, seen as the landowner, the kingdom of God can be seen as growing in fits and spurts – there will be times of great growth, where new members are coming into our communities, and times of stagnation, where it seems no one new graces the doors of our churches or schools for weeks, or months or years. There will be times of great personal growth, when we can literally see ourselves changing into the image of Christ Jesus, and dark nights of the soul where we're sure God would never want to be close to one such as us.
In the end, we come back to a feeling that the kingdom of God will be all of this and more – an experience of the greatness of a God that, more than anything, wants to be generous, even with those that others may see as "the last."
Blessed Juliana of Norwich
Born around 1342 and died around 1416, Juliana lived a normal life until she became gravelly ill. On her deathbed at the age of 30, a priest came in to hear her confession and anoint her with holy oils in preparation for death. As he was praying for her, she had a series of sixteen visions which finished when she made a full recovery. She wrote down the visions, and then selflessly devoted her life to prayer and spiritual counseling, becoming an anchoress (someone who renounces her former life and the world to live a life of prayer and solitude), and eventually, towards the end of her life, giving her whole day to prayer, reading and writing, with no other human contact whatsoever.
Blessed Juliana lived at a time when many communities were ravaged by plague, disease, lack of food, and family deaths. She counseled numerous people through their darkest times, but never once gave up on hope. Even as she longed to spend more time in solitude and prayer, she opened up her life to the countless pilgrims and parishioners who wanted to speak with her throughout the day.
Generosity
Our virtue for the month is generosity. Bl. Juliana is a perfect example of this, as she gave of her time and talents to help as many people as she could. In our families we are challenged to be generous with patience, forgiveness, understanding and time. In our community we are challenged to be generous to individuals and institutions who need our help to help others. And in our personal life we are challenged to be generous to every individual who crosses our path, imitating Jesus is giving all that is asked of us for the greater glory of God and for the building up of the body of Christ.
May we strive to outdo each other in generosity of giving and in generosity of spirit as we continue on our journey to the true happiness of heaven.
Blessings & Peace,
Hugo De La Rosa III