December Saint, Virtue & Parable
December 03, 2017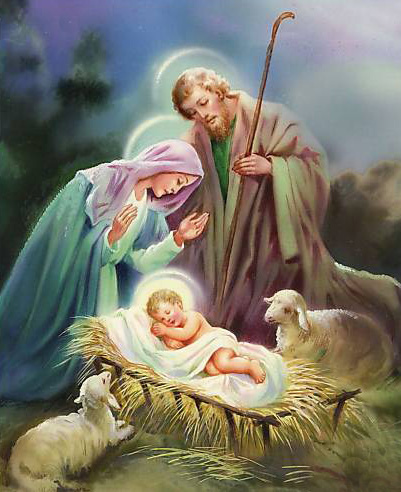 Each month at Our Lady of Sorrows we explore a particular parable of Jesus, a saint from the great cloud of witnesses that surround us (see Hebrews 12:1), and a virtue (generally taken from the fruits of the Spirit [Galatians 5:22-23, 2 Corinthians 6:6, Ephesians 5:9, & 2 Peter 1:5-7] or the cardinal & theological virtues). The parable, saint and virtue are incorporated into our morning prayer, religion bulletin boards and religion classes. This focus on one parable, one saint and one virtue complements our Words of Wisdom program and serves as a supplement to our religion curriculum. This month we focus on the parable of the Lost Sheep (Matthew 18:12-14; Luke 15:1-10), the virtue of Joy, and the Holy Family.
Jesus told them another parable:
What do you think? If a shepherd has a hundred sheep, and one of them has gone astray, does he not leave the ninety-nine on the mountains and go in search of the one that went astray? And if he finds it, truly I tell you, he rejoices over it more than over the ninety-nine that never went astray.
(Matthew 18:12-14, NRSV-CE translation)
Most of us spend much of our time with family, friends, and co-workers - it's the nature of our lives and schedules. However, Jesus challenges us to always be on the lookout for the unwanted, the undesirable, the ones that others shun, the ones who are on the fringes of polite society. We are challenged to visit and serve the sick, those in prison, and especially those who are different from us (in culture, religion, philosophy, politics, etc.). And Jesus sends us forth to do this because, he tells us, that's what the Father does. The Father constantly looks for the one who is different, who is set apart, who is outcast, who doesn't feel like they belong – and, Jesus tells us, when the Father finally breaks through to that person, all of heaven rejoices.
That joy felt in heaven is a mirror of the joy in our hearts this Advent month. That joy is different from happiness – happiness is an ephemeral feeling that is dictated by external circumstances; it can be triggered by a new item, a passing remark, the state of the weather, or any number of other external circumstances to our lives. Joy, on the other hand, is a deep-seated attitude towards life, regardless of the circumstances surrounding us. It's a way of looking at life that accepts both good and bad, happy and sad, positive and negative. When we can walk through life in a state of acceptance, we are on our way to practicing joy.
The Holy Family (Jesus, Mary & Joseph) encapsulate both our parable and our virtue. When Mary gave her "yes" to be the Mother of Jesus, the profound joy it brought her (and eventually St. Joseph) helped them weather the gossip that their little village would have thrown in their faces. As Jesus grew in wisdom and grace, all three of them would have taken time to speak with anyone who would speak to them, pray with those who needed it, share a meal with those who were hungry, and serve the other people who no one wanted to help. The man Jesus grew into was partly a result of the overflowing generosity and joy he witnessed and experienced with his family.
This month then, as we prepare ourselves for the celebration of the Christmas season by journeying through the holy season of Advent, let us pray that we can strive to practice joy in our hearts, attitudes and actions, especially with those people who are part of our earthly family.