August 15, 2017
Second Day of School Greetings OLSS!
Here are some brief reminders about dismissal procedures (Ms. DeLeon sent most of this information Monday as an email) to help streamline our afternoons and ensure that everyone (children, staff, families) stays safe each day.
Most Important Dismissal Commandment: the dismissal site for a family will be where the youngest student in the family is sent
PK 3 & 4 + their older siblings dismiss from the Small Playground
K5s + their older siblings dismiss from the Large Playground
1st / 2nd graders + their older siblings dismiss from 11th Street
3rd / 4th graders + their older siblings dismiss from the East Side of the Main Church (the side of the Church closest to 10th St)
5th - 8th graders dismiss from the West Side of the Main Church (the side next to the Adoration Chapel and the Knights of Columbus Hall)
Students on either of the Main church dismissal sites (West & East side dismissal) return to 11th Street @ approx. 3:15 pm and may be picked up there
Please do not panic if your child is not at your dismissal site! The excitement of seeing their friends the first few days of school sometimes distracts them and they end up with their friends instead of following their dismissal teacher. Staff carry radios to have children sent to the correct site if this happens.
Please note: these dismissal sites may change for you when CARPOOLS begin on August 21st. Afterschool care begins on August 21 as well.
The most important tip we can give parents this first week is to remember that your children are supervised outside until 3:30 pm and then brought into the cafeteria. Please take your time rather than arrive early and wait in a line for 20 - 30 minutes!
Finally, please note that the McAllen Police Department will issue tickets if waiting vehicles block Hackberry Ave. If you see a long line forming on Hackberry, please come back in 10 - 15 minutes.
The following diagrams may help as well: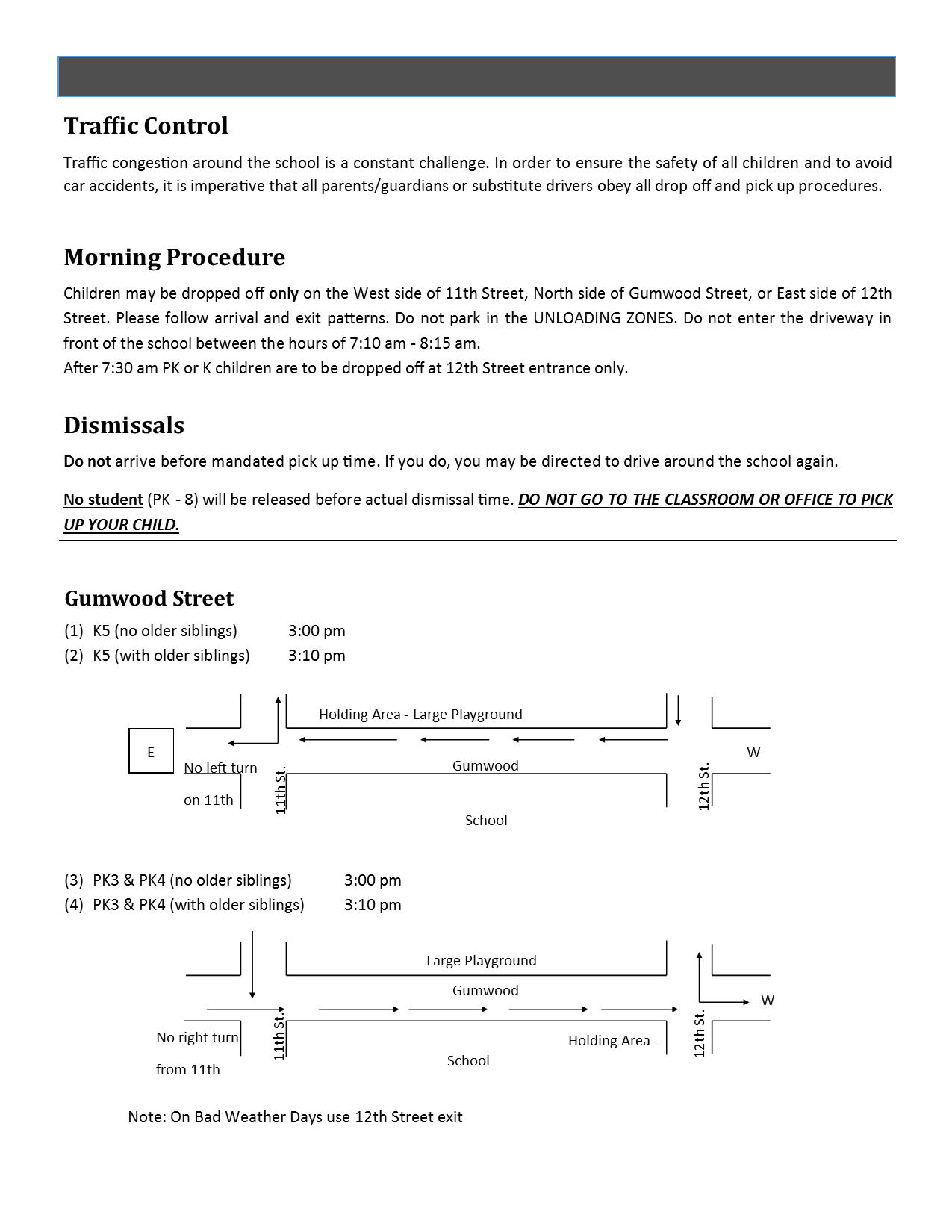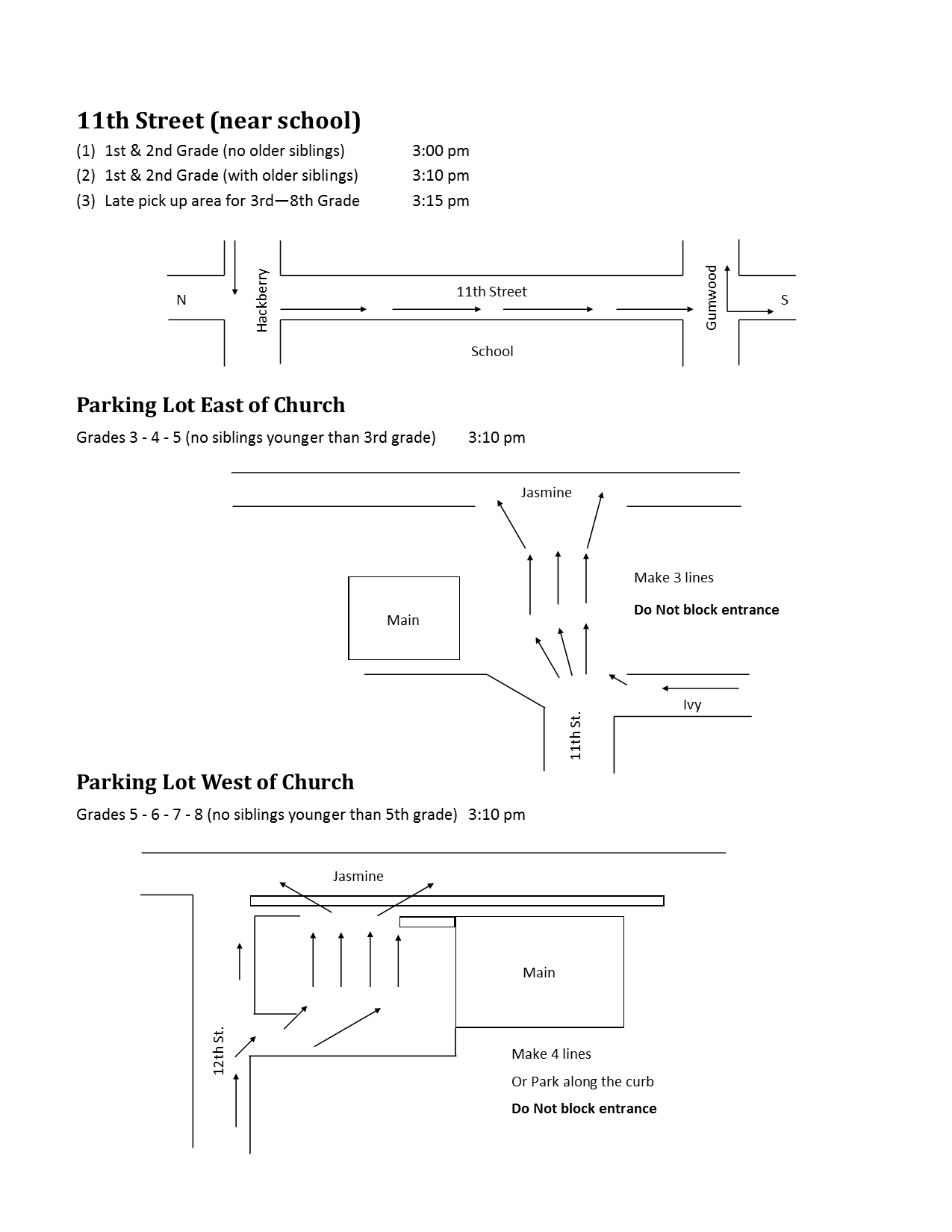 Blessings & Peace,
Hugo De La Rosa III
July 28, 2017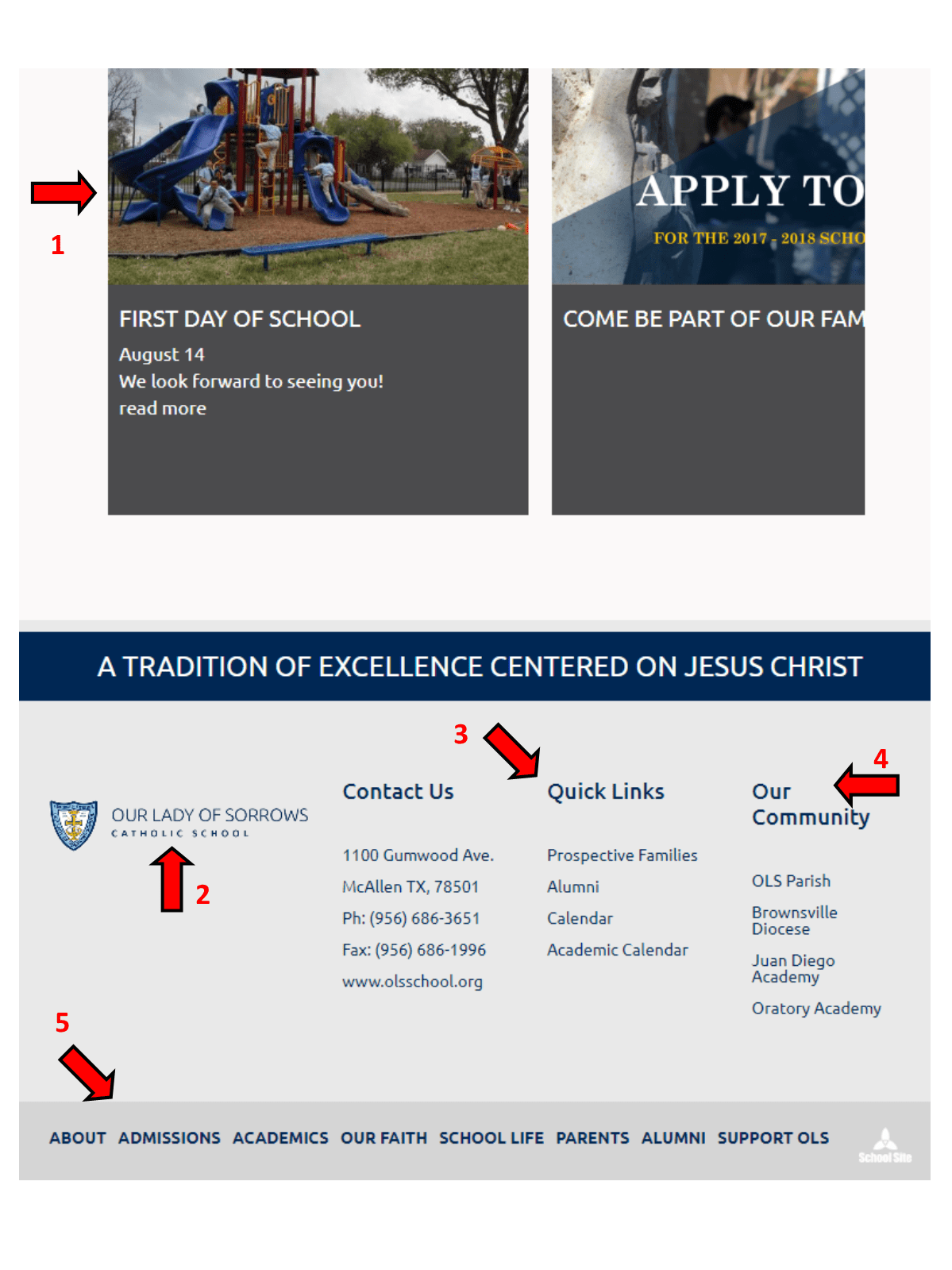 Summer Greetings OLSS!
Website Navigation Part 2: The Bottom Half
The bottom half of our website also has a few features to make your navigation more convenient:
1. This midsection houses three to five auto scrolling links filled with important information. You can click on each one to read the full article. On a touch enabled device you can scroll through by swiping; on a desktop or other non-touch enabled device you'll practice your patience as the links auto scroll through each section.
2. Just like the top of the page, clicking or tapping on the school name and logo will always take you back to the homepage. This prevents having to scroll all the way up (especially on phones) once you've come to the end of a web page.
3. The Quick Links sections houses a few of the most often used links on the page, and complements the blue bar of quick links on the upper half of the page.
4. Our Community has links to our parish website, the Diocese of Brownsville webpage, and links to our sister High Schools (JDA & Oratory).
5. Finally, the same set of links from the top of the page are conveniently available at the very bottom of the page (again, with the intention of minimizing scrolling and searching).
Social Media Presence
Once the school year gets underway we'll be providing information and highlights through a number of digital venues, including:
1) Facebook: Look for reminders about blog posts (these blog posts are replacing the weekly newsletter), article suggestions, and lots of pictures from special events.
2) Instagram: Look for lots of pictures from special events, as well as some #MondayMotivation, #ThrowbackThursday and other weekly Shasta posts
3) Pinterest: Work your way through tips for fast and healthy meal ideas, media recommendations, and other information to make parenting a bit easier.
4) Twitter: Short, bite sized nuggets of information on our school and from around the web.
5) YouTube: Videos from our Advanced Tech students & technology teacher, as well as other short videos highlighting school events (YouTube presence will be online after the school year begins).
Please follow, like, recommend, share, retweet, heart, hashtag, blog, post, comment, mention, pin, repin and tag us throughout the year!
Blessings & Peace,
Hugo De La Rosa III
July 26, 2017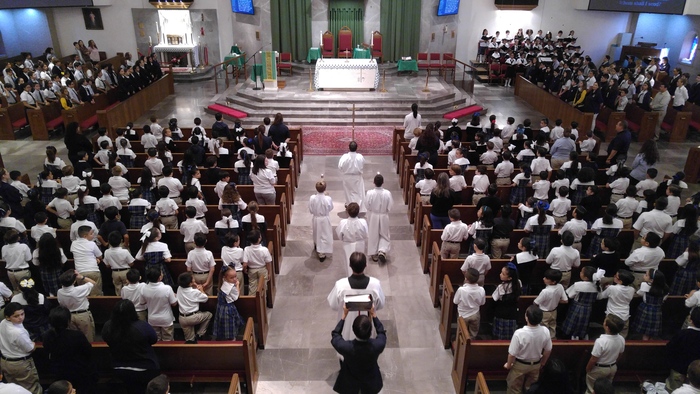 Summer Greetings OLSS!
Website Navigation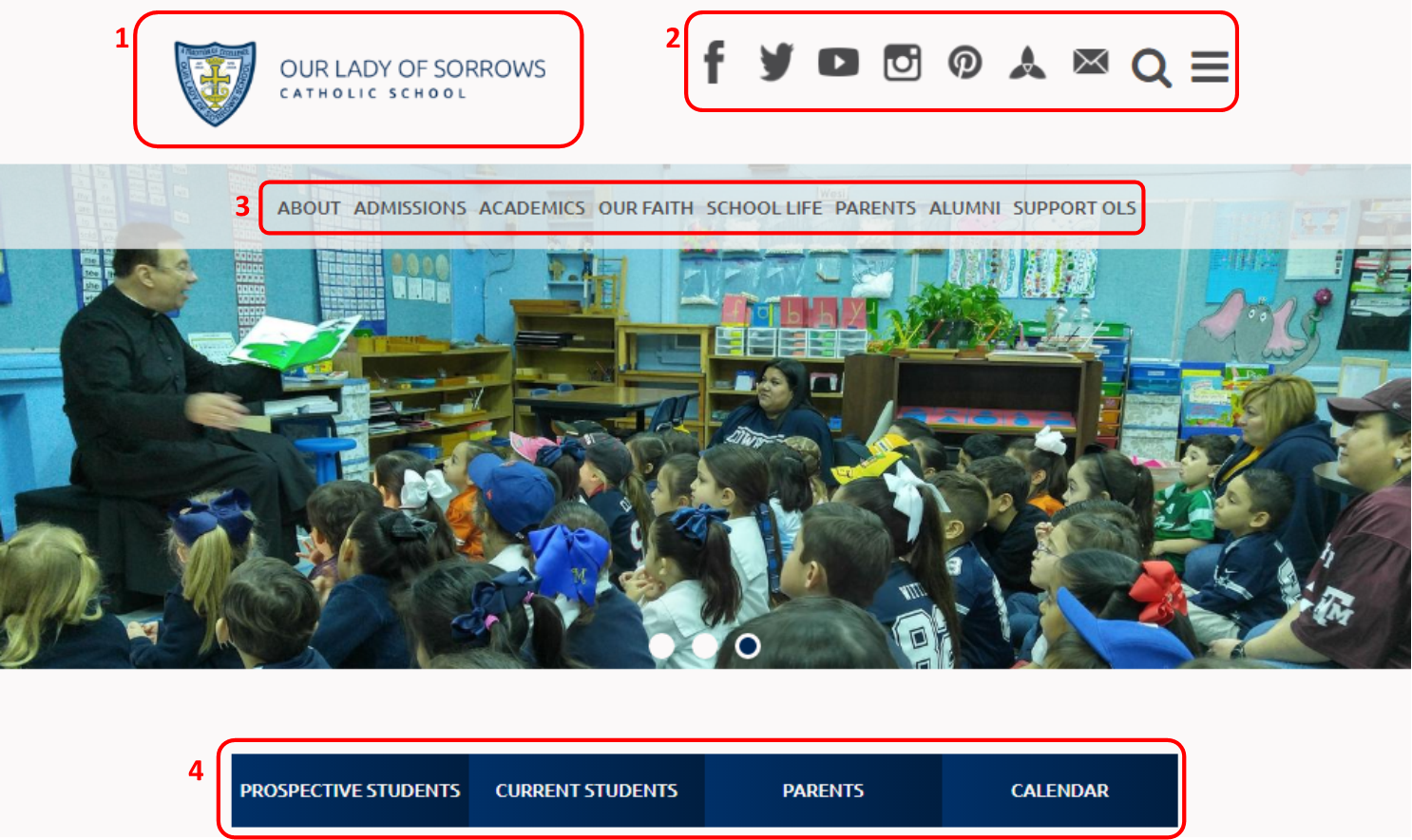 The picture highlights some of the features of the top half of our new website homepage.
1. Clicking (or touching) the slightly revamped logo and school name will always bring you back to the homepage.
2. There are quick links to our school social media accounts (Facebook, Twitter, YouTube, Instagram, Pinterest), as well the all important link to RenWeb (where you can keep on top of information from each teacher including upcoming classwork, homework, tests, and grades), a search function specifically for the OLSS website, a general email address (in case you're not sure where a particular message should go to; please allow up to 48 hours for a response!), and the hamburger menu (the three horizontal lines) that hold a few important shortcuts to others pages on our school website.
3. The top navigation bar that is part of every page - hovering over the title lets the popup menu appear for each category (admissions, academics, etc.)
4. Quick Links to some of the most well visited parts of the website.
All in all we aim to have you find information quickly and be able to navigate to where you want to go from any webpage. Most of the links will open up in a new window so you don't have to use your back and forward button quite so much!
New Features
We included some new features on the website we're particularly proud of:
1) Under About | Personnel Directory you'll find a list of current OLSS faculty, a picture of said faculty (especially relevant for new families!), and a link to that faculty members' email address. The list is partially ready as we update our RenWeb directory, so keep an eye out for missing pictures or people!
2) Under Students | Academic Resources you'll find links to Accelerated Reader and all of the digital resources that students need for their classes. This page will be updated as resources are added and / or replaced.
3) Under Our Faith | Prayer Requests you'll find a form to submit prayer requests - we will pray for these community submissions at every Holy Mass the school celebrates.
4) Under School Life | Calendar you'll find our lunch menu as well as a listing of upcoming events. Each month can be printed or saved to your digital device by clicking on the Printer icon, added to an iCal / Google Calendar / Outlook by clicking on the Calendar icon, or added to your favorite RSS reader by clicking on the RSS feed icon (the icon that looks like a sideways wi-fi logo).
More info on the website, our social media feeds, and the beginning of the year will come in the next few blog posts. Stay tuned!
Blessings & Peace,
Hugo De La Rosa III