October 15, 2017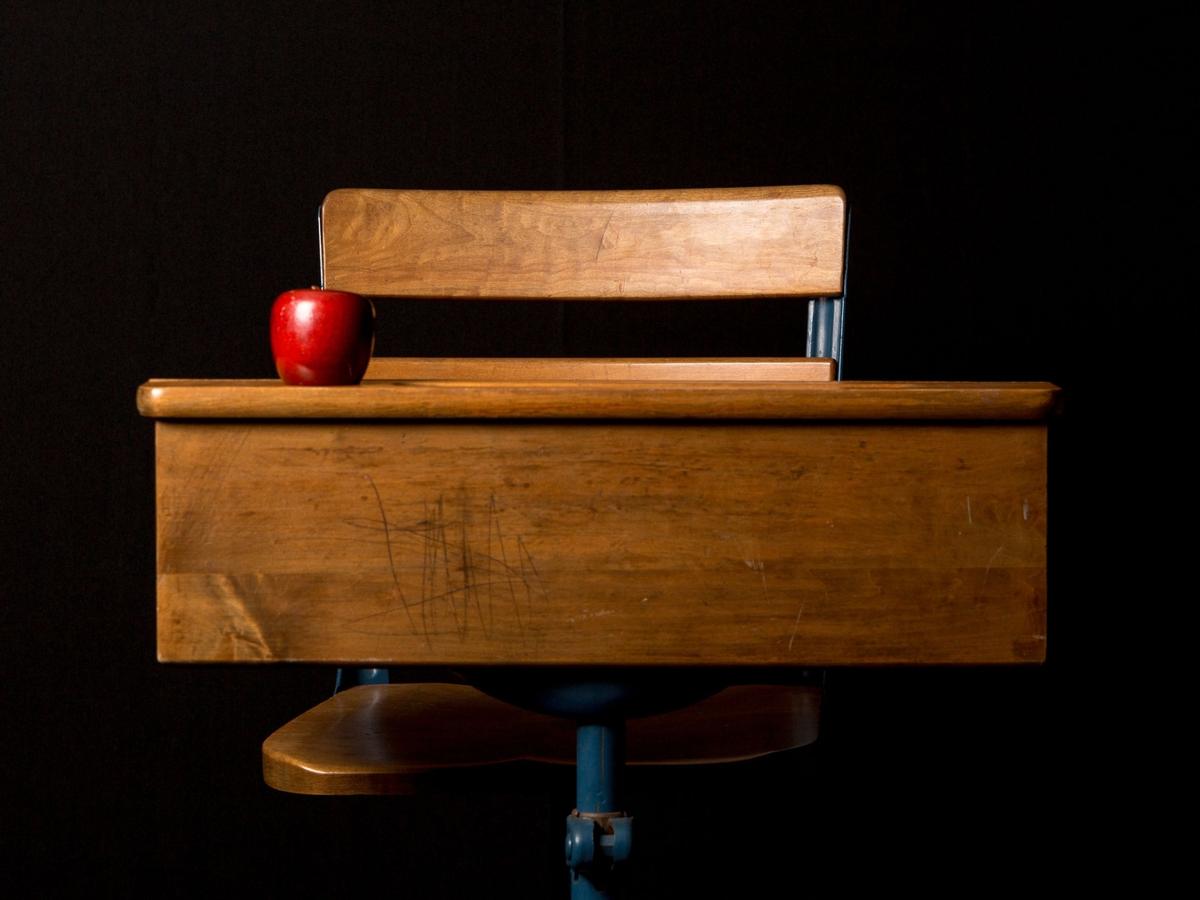 For the last three weeks I've been sending email notifications (through RenWeb, so please verify with the front office that your email contact information is correct!) to parents whose children are late or absent more than four (4) times. While I'm fine tuning when and who receives these notifications, they are usually sent Tuesday afternoon or evening (sometimes with a separate email when a child needs to stay for Thursday after school detention). Additionally, I've noticed an upswing in parents coming in towards the end of the day (especially between 2-3 pm) to pick up their children through the front office.
This is what our Parent-Student Handbook (which, incidentally, all parents & students have signed and committed to following) says about these procedures (italicized text is directly from the handbook):
Arrival
During arrival, all students are to enter the campus through the 11th street gym entrance, the Gumwood driveway entrance or through the Montessori entrance with siblings, if arriving before 7:45 a.m. Montessori students arriving after 7:20 a.m. may go directly to their classrooms through the 12th street entrance.
Morning assembly for students in 1st – 8th grades begins promptly at 7:45 a.m. in the gym. Students arriving after that time but before 8 a.m. should enter through the front office to be marked as tardy and receive a tardy pass. Students arriving after 9:00 a.m. or leaving before 10:30 a.m. and not returning are marked absent.
Attendance
In compliance with the Texas State Education Law and the Texas Catholic Conference Education Department (TCCED, accreditation agency), Our Lady of Sorrows School follows compulsory attendance laws. Therefore, a student in PK3 - 8th grade who is enrolled in school must meet the legal attendance requirements. A school calendar may provide a total of 180 instructional days. A student who does not attend school for a minimum of 164 of those days or misses more than 18 days (10%) of the school year, may be retained for loss of academic instruction. The school calendar is published prior to the beginning of each school year and provided with this handbook. Parents/guardians are expected to honor this calendar when planning vacations and appointments. Regular attendance is essential for a continuous, uninterrupted program of instruction as a basis for academic success.
In the event that a student fails to attend the required 164 days, the parent or guardian is required to meet with the school Principal before May. Parent or guardian must furnish reasons for the absences, including medical verification before credit is given for the school year.
Acceptable reasons may include the following as "extenuating circumstances" for the purpose of granting credit: personal sickness, sickness or death in the immediate family, quarantine, or participation in approved, school sponsored, extracurricular activities.
Absences
A written statement giving reasons for an absence must be brought within 3 days to the student's teacher upon the student's return in order for the absence to be marked Excused. These notes/letters will be retained in the office for one year. Please avoid writing the absence note on a napkin or a receipt. Should absence for any reason other than illness seem imperative, parents are requested to consult with the Principal and present a written reason for the absence.
Students who are absent due to illness have one day for each day of absence to make up the missed assignments, quizzes or tests. For example, a student who was absent three days would be given three school days to complete the missed work.
When a student is absent for two or more days due to illness, a parent may call the school office before 9:30 a.m. to arrange for homework assignments. Homework assignments may be picked up at the school office between 3:00 p.m. – 3:30 p.m.
For short absences, students should make arrangement with classmates regarding assignments. Students may also receive missed assignments from their teacher when they return to school.
Arrangements for regular classroom tests missed because of an excused absence are to be made with the individual teachers. These tests must be taken within one week of the original test date.
Early Departures During School Day
When a student is to leave school before the regular dismissal time, a written note is required. The note is to be presented to the teacher in charge at the time of departure. The student is to report to the office at the designated time and is to be picked up by the parent who signs out the child. Class is not interrupted to call a student to the office. The school does not release a child to anyone other than the parent, legal guardian, or adult listed on the school record. A student may not be released early on a continual basis. Patterns of early departure or consistent appointments made at the same class time will result in a conference with administration. The school encourages all doctor and dental appointments be made after 3pm when the instructional day has ended.
Excused and Unexcused Absences
Excused absences are granted for illness, death in the immediate family, or any other unusual and unexpected events which must be cleared by the school Principal.
Pre-planned absences, such as vacations, will be counted as "Unexcused" and are discouraged. Teachers will not accommodate parents by outlining lesson plans in advance and no assignment will be given in anticipation of the vacation. Teachers will not be required to give make-up tests or assignments for absences due to vacations.
If an absence excuse has not be submitted within the required 3 days, the absence will be marked Unexcused. An unexcused absence will result in non-graded make-up work, and zero (0%) credit will be issued for that assignment. Zero credit is averaged into recorded grades and are detrimental to a student's final average. For that reason, any unexcused absences are strongly discouraged.
Tardies
Promptness is an indication of good self-discipline. Habitual tardiness seriously disrupts the educational process of other students and affects school performance of the student who is tardy. It is the responsibility of the parents to make sure the student is punctual to school. Habitual tardiness will require a conference between the parents, student, and Principal.
Excessive Absences and Tardies
The following consequences are in place to address excessive absences and tardies:
8 tardies equal 1 day of absence per 9 weeks quarter.
18 tardies (maximum for full year) may result in possible blocked enrollment (grades 1st - 7th), and results in elimination from extracurricular activities for the school year.
8 Unexcused Absences – elimination from extra-curricular activities (per quarter).
16 Absences (excused or unexcused) may result in possible academic retention or blocked enrollment for the following school year as per TCCED mandate. Exclusion from extracurricular activities for remainder of school year will be implemented.
Please note the following:
the school day begins at 7:45 am for all students every school day - once the bell rings they are late
if a child is "only" 10 minutes late or "only" pulled out 10 minutes early every day, they lose 30 hours of school time each school year
even with a medical excuse, too many absences can result in retention or blocked enrollment
early departures are strongly discouraged except for emergencies; if something can be scheduled, please don't schedule it during the school day or immediately after school
early departures disrupt not only your child, but their whole classroom
Montessori students are also negatively impacted by too much lateness and too many absences
taking an extra day of vacation before or after school vacations count as unexcused absences
academics for all students tend to dip lower when they are habitually (more than twice a month) late or absent
Please work with yourself, spouse, family members and other children to ensure a good start to each day, including preparing for school the night before (clothing / homework / supplies / lunch boxes), cutting back on extracurricular involvements or parental commitments (so children aren't staying up late to finish homework), making sure children get enough sleep, and waking up even 15 minutes earlier every morning (to help with both parental and child prep time). Thank you.
Blessings & Peace,
Hugo De La Rosa III
October 02, 2017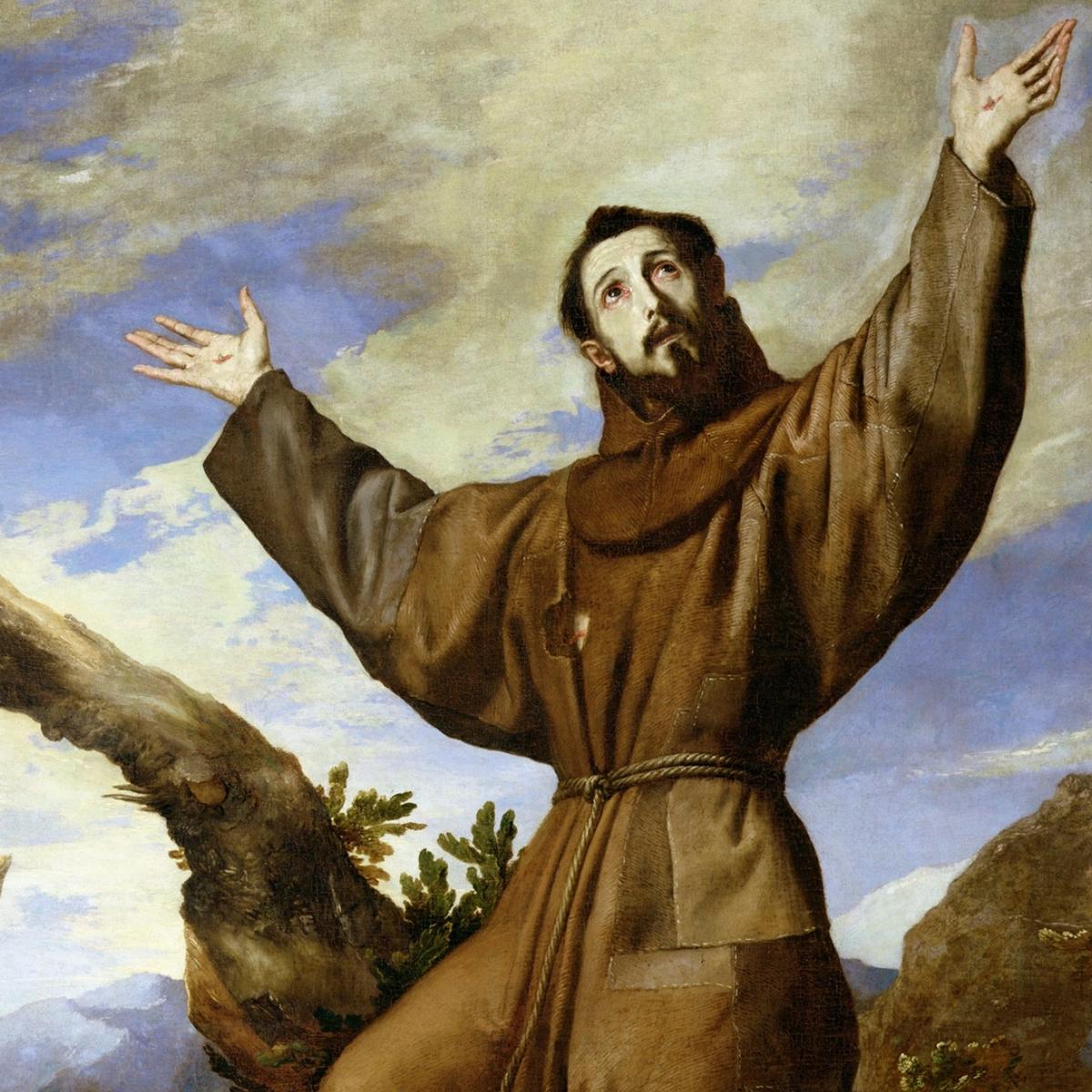 October Saint: Saint Francis of Assisi
Virtue: Goodness
Parable: The Good Samaritan (Luke 10:25 - 37)
Each month at Our Lady of Sorrows we explore a particular parable of Jesus, a saint from the great cloud of witnesses that surround us, and a virtue (generally taken from the fruits of the Spirit [Galatians 5:22-23, 2 Corinthians 6:6, Ephesians 5:9, & 2 Peter 1:5-7] or the cardinal & theological virtues). The parable, saint and virtue are incorporated into our morning prayer, religion bulletin boards and religion classes. This focus on one parable, one saint and one virtue complements our Words of Wisdom program and serves as a supplement to our religion curriculum. This month we focus on the parable of the Good Samaritan (Luke 10:25 - 37), the virtue of Goodness, and St. Francis of Assisi.
St. Francis is the patron saint of animals and the environment, but there is much more to Brother Francis then an ecological concern for our planet. One of his largest contributions to Catholicism was his desire to live his life as close to Jesus' as possible.
He fell in love with Lady Poverty early on in life, so much so that even when he was living surrounded by his family's wealth he had times in his life when he would go off alone to pray, or take everything he had on him and give it to someone who needed it more. He tried to radically live Jesus' prohibition against putting our trust in stuff and trusting to God (through the kindness of strangers and benefactors) to provide anything and everything he needed.
He was so patient with and good to others that people marveled at him, and his humility, gentleness and goodness shone through to everyone he met, from beggar to world leader. He made his peace with life and death, so much so that he could talk about Sister Death gently and lovingly coming to lead him (and everyone else) into God's presence.
This month's virtue of Goodness mirrors the way St. Francis lived his life. Practicing the virtue of goodness means remembering that God created us in goodness (like all of creation) and challenges us to live a life of virtue (heroic sacrifice for others), patience (St. Francis can still teach us a thing or two about this!), peace and kindness. Finally, just like St. Francis, the virtue of Goodness challenges us to choose the good, even if it means that we might suffer or lose our lives for choosing the good. It is a virtue that leads some to martyrdom – making the ultimate sacrifice of their lives for the good of another person or for the integrity of the Faith.
The parable for this month tells the story of one such person who chose to do good. The parable of the Good Samaritan (Luke 10:25-37) tells us this story:
Just then a lawyer stood up to test Jesus. "Teacher," he said, "what must I do to inherit eternal life?" He said to him, "What is written in the law? What do you read there?" He answered, "You shall love the Lord your God with all your heart, and with all your soul, and with all your strength, and with all your mind; and your neighbor as yourself." And he said to him, "You have given the right answer; do this, and you will live."
But wanting to justify himself, he asked Jesus, "And who is my neighbor?" Jesus replied, "A man was going down from Jerusalem to Jericho, and fell into the hands of robbers, who stripped him, beat him, and went away, leaving him half dead. Now by chance a priest was going down that road; and when he saw him, he passed by on the other side. So likewise a Levite, when he came to the place and saw him, passed by on the other side. But a Samaritan while traveling came near him; and when he saw him, he was moved with pity. He went to him and bandaged his wounds, having poured oil and wine on them. Then he put him on his own animal, brought him to an inn, and took care of him. The next day he took out two denari, gave them to the innkeeper, and said, 'Take care of him; and when I come back, I will repay you whatever more you spend.' Which of these three, do you think, was a neighbor to the man who fell into the hands of the robbers?" He said, "The one who showed him mercy." Jesus said to him, "Go and do likewise."
Samaritans were people from Samaria, North of Jerusalem and Judea. Many years before the time of Jesus Jewish people had moved there and married the pagans (worshipped other gods) who lived there. Many of them practiced a mixture of both Jewish and pagan religion, and they were looked down upon by other Jews. So for Jesus to tell a story where a Samaritan is the one who is good was a shock to his audience. But Jesus was trying to make the point that anyone who practices loving kindness – who chooses to do good – is the one who is showing love of God and neighbor.
May we pray this month for the grace to show goodness, love and mercy to all people in our lives, especially those who are different from us in creed, nationality, socioeconomic status, or political party.
Blessings & Peace,
Hugo De La Rosa III
September 27, 2017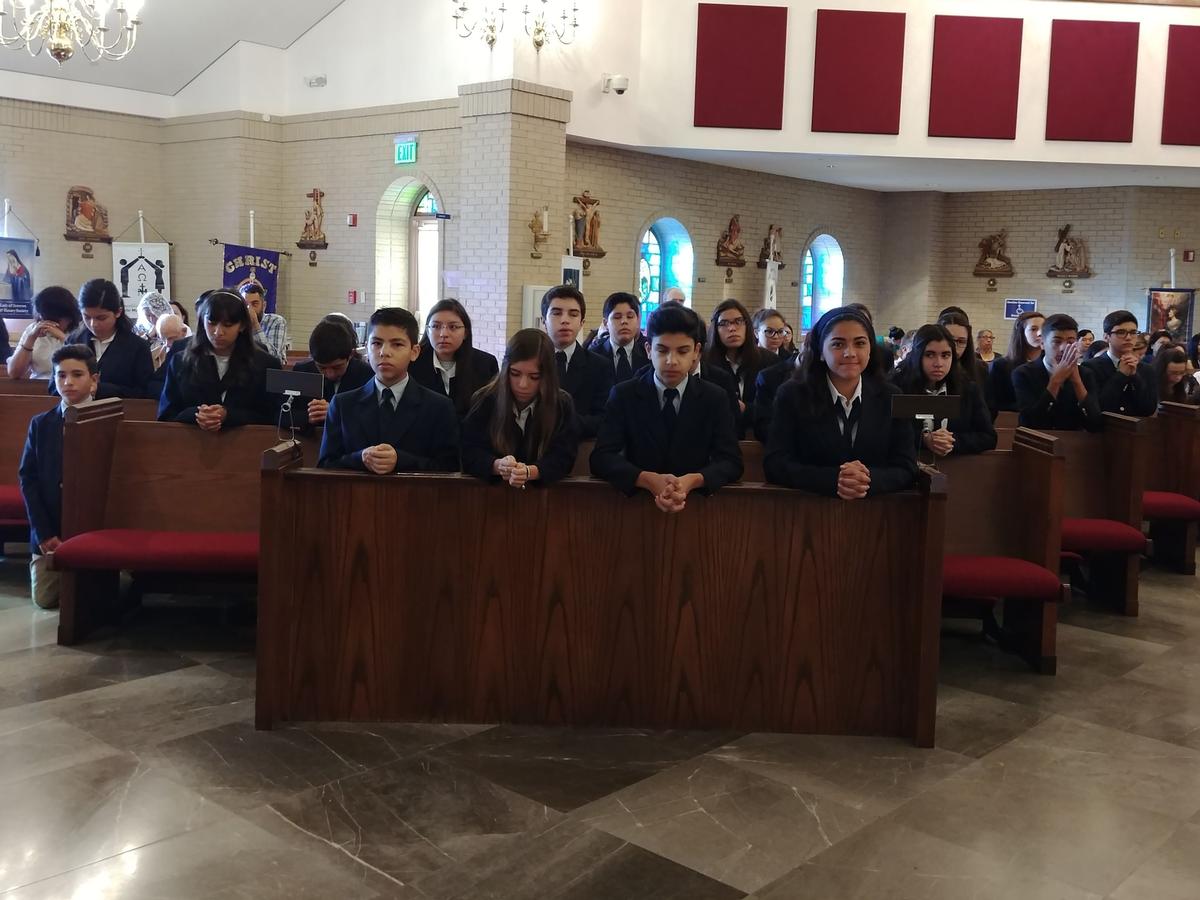 Faculty, staff and students at Our Lady of Sorrows Catholic School pause throughout the day to pray together as a community.
Our first community prayer takes place in the gym (for 1st - 8th grade) or in the classroom (for Montessori). Each classroom (teacher/students) is assigned a week to lead the school in morning prayer in the gym, as well as serve the wider community by taking service and ministry roles at that week's celebration of Holy Mass. Kinder 5 students have the opportunity to serve at Mass at the end of the year as well.
The next time that 1st - 8th grade students pray together is in their classroom, sometimes utilizing their classroom altars. Self-contained classrooms will generally pray at the start and end of the day, while Jr. High classes will pray at the beginning and end of each different class they attend. Montessori students are taught to pray at their classroom altar with a short prayerful ritual at any time they would like, and the rest of the class is taught to be respectful of their classmates when they are in prayer.
Our next prayer pause is the Prayer Before Meals. Each class prays this together before they head out to recess and lunch.
At Noon the whole school pauses for a few minutes to pray the Angelus. It's a prerecorded audio file that is played over the schools intercom system, and it gives us all a chance to invoke Mary's protection and prayers for us as the patroness of the school.
Finally, at the end of the day, the whole school pauses once more to pray part of the Divine Mercy prayer together. It helps bring our school day to a close, and it helps to remind all of us that God is watching over us, and that his merciful love and forgiveness are always with us.
In your own homes, having a set time for prayer will help children understand the importance of prayer, while helping to bond family members together. The prayers we use at school are at the bottom of this article. You may want to use these at home as your children are very familiar with them. Every religion book we use also has a selection of Catholic prayers, either at the beginning or end of the book.
May the peaceful presence of the Holy Spirit lead you ever deeper into prayer this school year.
Blessings & Peace,
Hugo De La Rosa III
Morning Assembly – Ending Prayer
Leader: We adore you, O Christ, and we praise you
Response: Because by your holy cross you have redeemed the world.
Noontime Prayer – The Angelus
Leader: The Angel of the Lord declared to Mary:
Response: And she conceived of the Holy Spirit.
Hail Mary, full of grace . . .
Leader: Behold the handmaid of the Lord:
Response: Be it done unto me according to your word.
Hail Mary, full of grace . . .
Leader: And the Word was made Flesh:
Response: And dwelt among us.
Hail Mary, full of grace . . .
Leader: Pray for us, O Holy Mother of God,
Response: That we may be made worthy of the promises of Christ.
Let us pray:
Pour forth, we ask you, O Lord, your grace into our hearts; that as we have known the incarnation of Christ, your Son, by the message of an angel, so by His passion and cross we may be brought to the glory of His Resurrection. Through the same Christ, our Lord. Amen.
End of the Day Prayer – 3 O'Clock Prayer to The Divine Mercy
You expired, Jesus, but the source of life gushed forth for souls and an ocean of mercy opened up for the whole world. O Fountain of Life, unfathomable Divine Mercy, envelop the whole world and empty Yourself out upon us. O Blood and Water, which gushed forth from the Heart of Jesus as a fountain of mercy for us, I trust in You.
Holy God, Holy Mighty One, Holy Immortal One, have mercy on us and the whole world. (3 times)
Jesus, King of Mercy, I trust in You!