April 20, 2018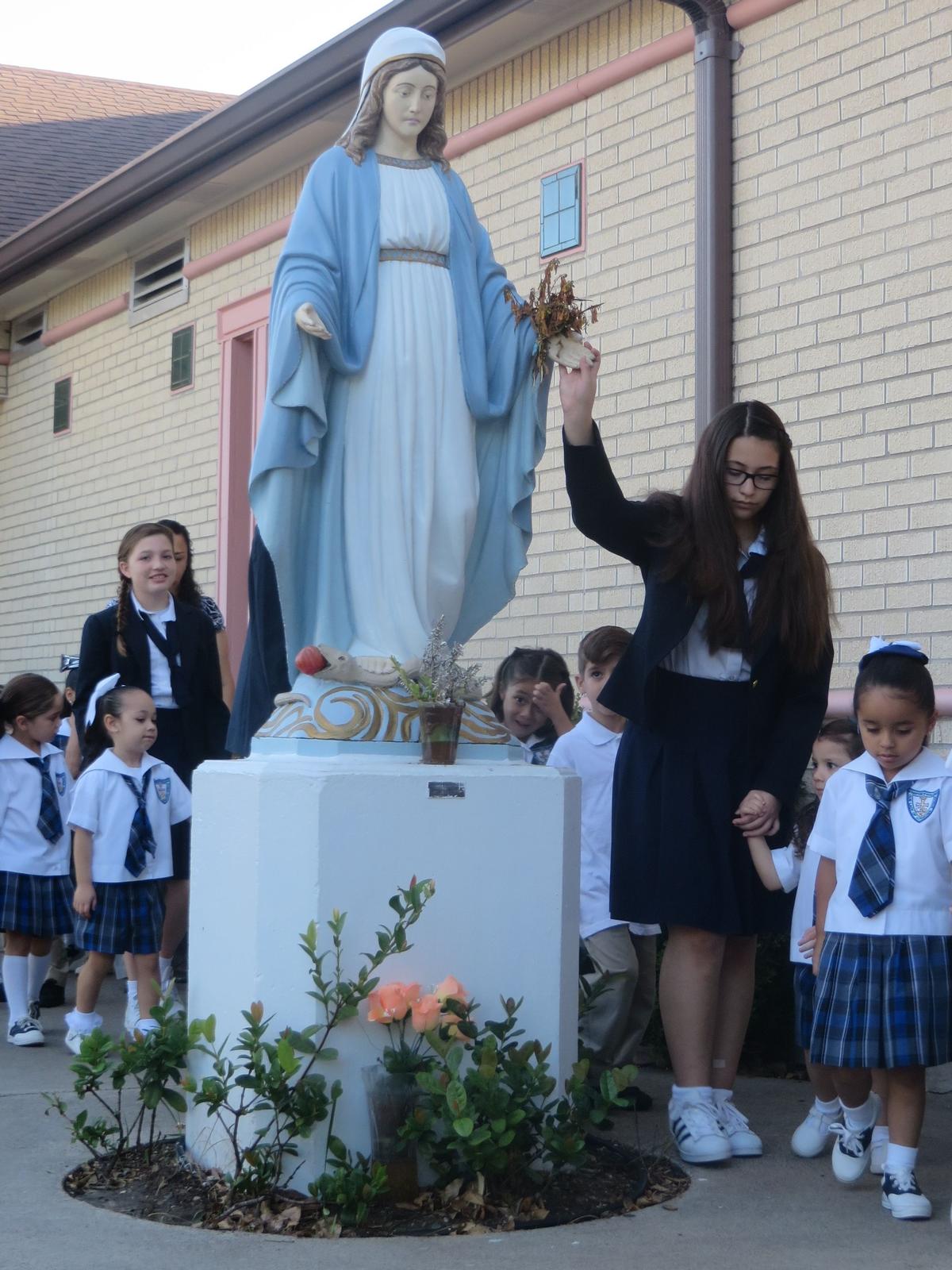 Principal's Report to OLS School Community
SCHOOL IMPROVEMENT STUDY
Earlier in the school year Monsignor Barrera and the school council gave us permission to bring in outside educational consultants to conduct a school improvement study. The purpose of the study is to examine all areas relevant to student achievement, including instructional delivery, testing and curriculum, and strengthen them as needed. The consultants have begun their observations and collection of data in the middle school grades and will continue until the school year ends. We look forward to the final report and implementing their suggestions on how to continue to better our school.
Alliance with Notre Dame University
OLS School is in partnership with the University of Notre Dame and its Alliance for Catholic Education (ACE) program. ACE program promotes Catholic education among graduate students seeking their Master in Education degree and places those highly qualified graduates in Catholic schools across the country. OLS is fortunate to have two such teachers on campus – Mr. DeSapio and Ms. Sternberg. Although Mr. DeSapio will be leaving at the end of the school year, a teacher has already been assigned to the position beginning in August.
STEM Education
OLS is applying for participation in the Notre Dame Center for STEM Education program (SCIENCE / TECHNOLOGY / ENGINEERING / MATH) through the University of Notre Dame. This competitive program selects, funds, and trains cohorts of teachers who commit to a 3 summers, 2 school years intensive program that focuses on implementing STEM into all areas of the school curriculum. The program collaborates with researchers and practitioners at Notre Dame and across the nation to help all students innovate, engage, and excel in the STEM disciplines. We will update you as the process gets closer to the acceptance date.
In Christ,
Mrs. Luisa DeLeon
Principal
March 04, 2018

Program Identification
The SuccessMaker Program provides individualized self-paced instruction for students in grades 1-8 to enhance and reinforce their language arts and math skills. The program courses are designed to help students demonstrate academic achievement and develop confidence in reaching their full potential by allowing them to work on their own level even if that means they are working below or above grade level.
Procedure
Two-pronged innovative strategies are employed by SuccessMaker Program. First, the program tracks the Initial Placement that places the students at the appropriate grade level equivalent based on data gathered during this time. After this initial placement, the Program Facilitator tracks each student's progress and automatically provides the level of instruction appropriate to each student's needs. The program also provides additional practice in areas which performance is weak and reinforces the areas in which performance is strong. Because each student proceeds at his or her pace, this allows the student to take a greater academic challenges while building new skills, knowledge and strategies.
The other innovative strategy employed by SuccessMaker Program is called On-the-Spot Intervention. Each teacher accompanies his/her class to the computer lab and along with the SuccessMaker Facilitator provides one-on-one tutoring as students work. The teacher interacts with students to work on their weakest academic areas. In addition to this strategy, each teacher also carries the responsibility of reviewing reports provided by the program facilitator and prescribing (with the help of the facilitator) any needed intervention to catch students before they fall behind in math and reading.
Assessment
Immediate access to on-demand assessment tools is employed by SuccessMaker Program. Teachers and parents have access to numerous reports which provide immediate and accurate information detailing student performance. Examples of the information available from reports include:
Number of correct problems out of the total number attempted and the length of the session

Cumulative number of problems, percent correct and total time on system

Grade level equivalent gains in reading and/or math to date

Specific objectives with which a student or group of students is struggling

Projection of the time needed to achieve a certain gain or to reach a particular grade level goal.
These reports are provided regularly by the SuccessMaker Program Facilitator and referred to by subject and grade-level teachers to keep track of academic performance and growth of students and to prescribe any needed intervention.
For further information and explanation, please contact Denia de los Reyes – SuccessMaker Program Facilitator
February 28, 2018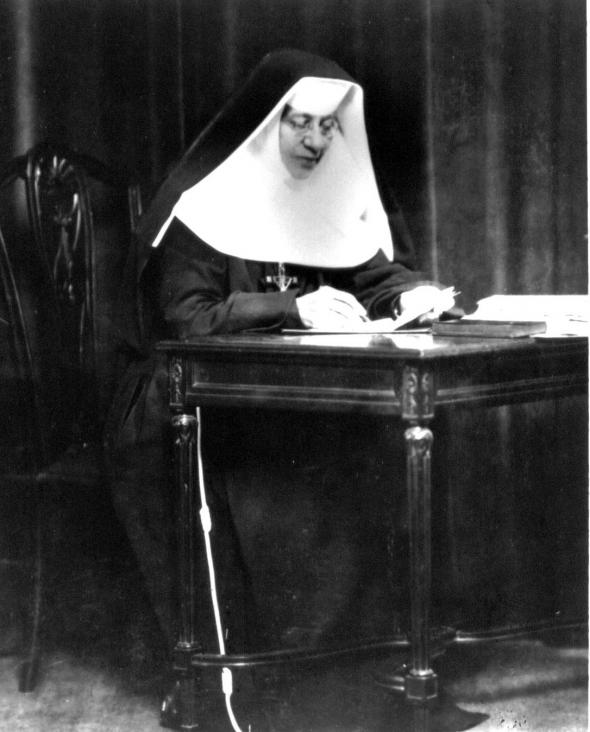 Each month at Our Lady of Sorrows we explore a particular parable of Jesus, a saint from the great cloud of witnesses that surround us (see Hebrews 12:1), and a virtue (generally taken from the fruits of the Spirit [Galatians 5:22-23, 2 Corinthians 6:6, Ephesians 5:9, & 2 Peter 1:5-7] or the cardinal & theological virtues). The parable, saint and virtue are incorporated into our morning prayer, religion bulletin boards and religion classes. This focus on one parable, one saint and one virtue complements our Words of Wisdom program and serves as a supplement to our religion curriculum. This month we focus on the parable of the Prodigal Son (Luke 15:11-32), the virtue of Kindness, and St. Katharine Drexel.
Jesus said: There was once a man who had two sons. The younger said to his father, 'Father, I want right now what's coming to me.'
So the father divided the property between them. It wasn't long before the younger son packed his bags and left for a distant country. There, undisciplined and dissipated, he wasted everything he had. After he had gone through all his money, there was a bad famine all through that country and he began to hurt. He signed on with a citizen there who assigned him to his fields to slop the pigs. He was so hungry he would have eaten the corncobs in the pig slop, but no one would give him any.
That brought him to his senses. He said, 'All those farmhands working for my father sit down to three meals a day, and here I am starving to death. I'm going back to my father. I'll say to him, Father, I've sinned against God, I've sinned before you; I don't deserve to be called your son. Take me on as a hired hand.' He got right up and went home to his father.
When he was still a long way off, his father saw him. His heart pounding, he ran out, embraced him, and kissed him. The son started his speech: 'Father, I've sinned against God, I've sinned before you; I don't deserve to be called your son ever again.'
But the father wasn't listening. He was calling to the servants, 'Quick. Bring a clean set of clothes and dress him. Put the family ring on his finger and sandals on his feet. Then get a grain-fed heifer and roast it. We're going to feast! We're going to have a wonderful time! My son is here—given up for dead and now alive! Given up for lost and now found!' And they began to have a wonderful time.
All this time his older son was out in the field. When the day's work was done he came in. As he approached the house, he heard the music and dancing. Calling over one of the houseboys, he asked what was going on. He told him, 'Your brother came home. Your father has ordered a feast—barbecued beef!—because he has him home safe and sound.'
The older brother stalked off in an angry sulk and refused to join in. His father came out and tried to talk to him, but he wouldn't listen. The son said, 'Look how many years I've stayed here serving you, never giving you one moment of grief, but have you ever thrown a party for me and my friends? Then this son of yours who has thrown away your money on prostitutes shows up and you go all out with a feast!'
His father said, 'Son, you don't understand. You're with me all the time, and everything that is mine is yours—but this is a wonderful time, and we had to celebrate. This brother of yours was dead, and he's alive! He was lost, and he's found!' (Luke 15:11 - 32, The Message)

The story holds a wealth of wisdom, but two themes stand out during Lent:
The son who demands his inheritance in the story represents us. Once he gets what he wants he wastes his new found wealth in selfish pursuits. It's only after he hits rock bottom that he decides to journey back to his father and ask forgiveness. During this holy season of Lent we are challenged to recognize our own sinfulness, and make a similar journey to our Heavenly Father, asking for and receiving his forgiveness through our celebration of the Sacrament of Penance and Reconciliation.
The son who stayed faithful to his father represent us as well, especially those of us who regularly practice our faith. We can become so "righteous" that we start to unjustly judge those who we consider to be "less Christian" than we are, whether that's because of their Church attendance, their choice of livelihood, the way they dress, the music they listen to, their country of origin, or any other number of criteria. We are challenged during this season of Lent to pray, fast and give to charity to help us break down that hardness of heart that leads us to unjustly judge others because they sin in different ways than we do.
Virtue of the Month: Kindness
Tied closely to our monthly parable is the virtue of kindness. Kindness is a habit that strengthens our ability to give of ourselves to others, without asking for or expecting anything in return. We model that self-sacrificing attitude on Jesus, who gave everything he had – even his very life – to try and show us the depth of God's love. Kindness helps us to accept the circumstances of our lives (unlike the first son) and allows us to celebrate the circumstances in other people's lives (unlike the second son). While this virtue begins in our heart and souls, kindness is incarnated through our actions to others – small, medium or large acts of love and service that help spread the radiant joy of our kind and merciful God.
May this month help us practice the virtue of kindness so that we may rejoice with all the angels and saints during this holy season of Lent.
Saint of the Month: St. Katharine Drexel
St. Katharine Drexel was born in Philadelphia on November 26, 1858 to a wealthy and devout family. Her parents set a great example of putting their faith - especially the spiritual and corporal works of mercy - into action, and Katharine took that lesson to heart. After speaking with Pope Leo XIII in 1887, Katharine followed the prompting of the Holy Spirit and took vows as a nun with the express purpose of helping Native Americans and African Americans who were living in poverty.
Katharine spent the rest of her days teaching and raising funds for those two disenfranchised communities. She financed the publication of a Navajo-English catechism and founded Xavier University in New Orleans, the first Catholic University in the United States for African-Americans. By the time of her death, she had more than 500 Sisters teaching in 63 schools throughout the country and she established 50 missions for Native Americans in 16 different states (http://www.catholic.org/saints/saint.php?saint_id=193).
St. Katharine exemplifies our virtue for the month, reminding us that those who are lucky enough to be born into wealth and privilege as well as those who have worked hard to earn that are called by God to help the poorest in our area and around the world. May this Lent challenge us to practice kindness in imitation of the kindness that St. Katharine incarnated to all.
Blessings & Peace,
Hugo De La Rosa III