Posts Tagged "lent"
April 12, 2022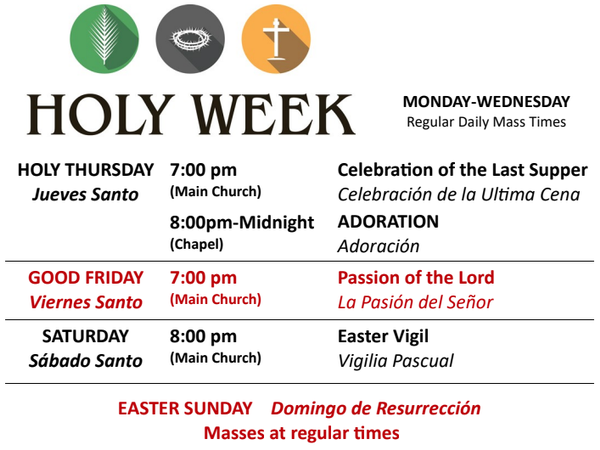 Our celebration of the holy season of Lent is coming to an end as we've entered into Holy Week and are getting ready to move into the celebration of the Sacred Paschal Triduum. The Triduum is the time between Lent and Easter - it comprises the days of Holy Thursday, Good Friday, and Holy Saturday, and it's the holiest time of the year for Catholics, with some of the richest, most mysterious and sacramental celebrations of the year.
Holy Thursday gives us a chance to enter into the celebration of the Last Supper with Jesus and the Twelve Apostles. We gather together - just as they did - to pray, to share in the joys of the Eucharistic celebration, and to gather strength from our community. We strive to recognize ourselves in the obstinence of Judas, in the brashness of Peter, in the youthful exuberance and trust of John, and in the tumultuous preparation for the passion of Jesus. But we also take solace in the gift of the institution of the Eucharist that night, and rejoice in the gift of Jesus' own presence in our churches, in our homes, in our famines, and in our hearts and lives.
On Good Friday we gather together to journey with Jesus on the Via Crucis, the Way of the Cross. We follow our Lord and Master as the Suffering Servant, willing to give everything - even his very life - as an example of sacrificial love. Every Catholic tabernacle in the world lies open and empty - every sanctuary lamp is dark - we commemorate the day, even the very hour, of the death of Jesus.
But on Saturday at the Easter Vigil, we gather together in the evening to once again to celebrate the coming light of the Resurrection. We finish the liturgy begun on Holy Thursday, we brandish fire to chase away the darkness of death and despair, and we join our voices in a glorious Alleluia to our Risen God and to our own eventual resurrection.
As we prepare to finish our Lenten journey as a parish and school community, I urge you, as parents and as the first teachers of the faith, to make time - wherever you may be - to lead your family to the prayers, the rituals, the sacraments, and the mysteries of the Sacred Paschal Triduum, so that we may more fully appreciate and celebrate the gift and the joy of the Easter resurrection. Like Jesus, may we be bringers of this Good News into the lives of those around us, especially those young lives gifted and charged to our care.
May each and every one of you have a blessed and wonder-filled Triduum and Easter celebration.
Blessings & Peace,
Hugo De La Rosa III
February 23, 2021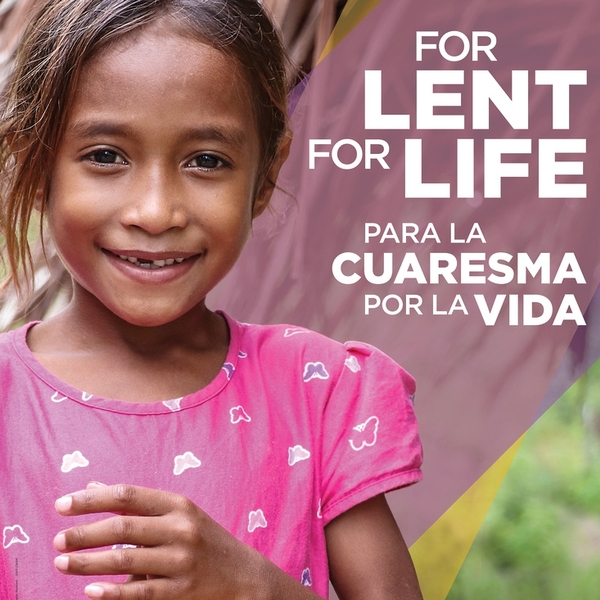 Every year, during the season of Lent, our diocese participates in Catholic Relief Services' Lenten Rice Bowl, and this year is no different. Bishop Flores is calling and challenging every person of good will in our area to find it in our hearts to sacrifice some of our monetary treasure to help areas with some of the poorest of the poor, including the colonias that are a few minutes' drive away from many of us.
To put things in perspective: last week many Texas residents lost power and access to clean, running water anywhere from a few hours to a week (or longer!) — this is the day-to-day life of many of the people that benefit from the donations given through CRS Rice Bowl. 75% of the donations are distributed to areas in desperate need of assistance (this year focusing on El Salvador and Madagascar), while 25% stays in our diocese to assist with efforts that target those living in abject poverty with daily hunger and other pressing needs.
This year, instead of handing out physical Rice Bowls to every student at Our Lady of Sorrows Catholic School, we are focusing on digital donations that are in line with our COVID-19 safety protocols. You may give:
1) Through OLS Church's online giving page: https://www.osvonlinegiving.com/1383
as a one-time donation (select "Quick Give," then choose "Rice Bowl" as your Fund)
as an ongoing donor (select "Create New Account" or simply log in if you have an existing account; make sure to select "Rice Bowl" as your Fund)
2) Through the OSV Online Giving App
As we continue our journey through the season of Lent, let us join our prayers and our charitable donations as a means of continuing to bring the hope, light, and love of Jesus to our neighbors around us.
Blessings & Peace,
Hugo De La Rosa III
February 11, 2018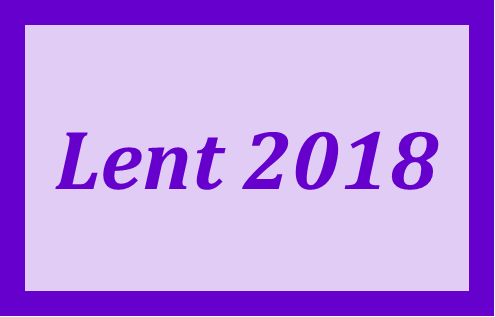 Prayer, fasting and almsgiving are the three ways that Jesus talks about our Lenten preparation in the Gospel reading for Ash Wednesday. These three avenues to holiness are traditionally prescribed for all Catholics, especially during Lent. Here are some ways we can incorporate these disciplines into our daily life, and especially into our Lenten sacrifices.
Prayer
When you pray, go to your inner room, close the door, and pray to your Father in secret.
Jesus said these words in the context of religious professionals who would pray for human acclaim. They prayed not so much out of a sincerity of heart, but for the sole purpose of having other people see them pray. They thrived on knowing that others thought they were holy and spiritual.
For our Lenten prayer discipline, we would do well to establish a regular habit of prayer. Morning and evening are natural times for prayer. We can rise 15 minutes earlier and spend some time in prayer, or we can wait until our house has settled down and make some time at night. In either case, a simple formula for prayer could flow like this:
Take some time to still your body, quiet your breathing, silence your voice, and turn your thoughts towards God. (1 minute)
Thank God for at least three (3) minutes. See how many different people, situations and things you can think of to give thanks for. (3 minutes)
Acknowledge your faults before God - spend some time confessing your sins, failures, mistakes and regrets, and ask for God's forgiveness .(3 minutes)
Bring your petitions before God - pray for your family and friends, for our nation, for our Church, and for anyone who has asked you for their prayers. (3 minutes)
Read Scripture - if you're not sure what to read, open up Mark's Gospel in the New Testament and read 1 chapter each time you pray. In less then 3 weeks you'll have read through one full Gospel. (3 minutes)
Listen for God's voice - after talking and reading, spend the remaining two minutes listening for the still, small voice of the Holy Spirit. ( 2 minutes)
Fasting
But when you fast, anoint your head and wash your face, so that you may not appear to be fasting, except to your Father who is hidden.
Jesus spoke this in the context of people who would fast (not eat or drink) and then make a spectacle of it - they were, once again, looking for human praise. We can fast in secret by trying the following:
Food: We live in a country of such abundance that we sometimes forget that in other parts of our world (and in parts closer to home) some people go without food or live on very little food on a day to day basis. We can limit our intake of food and drink to remind ourselves of others, to stand in solidarity with them, and as a prayer for those who do not have enough to eat.
Electronics: We live in a world inundated with gadgets - cell phones, smart watches, mp3 players, laptops, computers, gigantic TV's, etc. A challenging fast would be to go without non-essential electronics for a day, a week or all of Lent. It would help remind us that life is not always fast or convenient, and it would serve as a welcome antidote to the overloads of information and noise we sometimes try to process.
Almsgiving
But when you give alms, do not let your left hand know what your right is doing, so that your almsgiving may be secret.
Most Catholic parishes will have stewardship drives where we are asked to contribute our "time, talent and treasure." Lent is a wonderful time for us to make sacrifices of all three of those precious commodities. We can spend more time on family and less on work or individual pursuits; more money on charities and less on frivolous spending; and more talents in the service of the poor and homeless in our midst. It is a great way to expand our self-centeredness into other-centeredness.
In whatever way you mark this Lent, I pray that it draws you closer to the suffering Servant. May we all become imitators of this Servant Messiah in our thoughts, words, and deeds.
Blessings & Peace,
Hugo De La Rosa III